Electronics Online Challenge Sponsored by Texas Instruments
Entries
NOW OPEN FOR SUBMISSIONS! Texas Instruments (TI) is one of the largest semiconductor design and manufacturing companies in the world. That means we make amazing technology that is inside many of the most innovative electronic products you use every day. For example, TI components are inside the VIQC controller, BEATS headphones, GoPro Hero 4 camera, Tesla cars, and the Samsung Galaxy. We challenge you to find a device (we recommend choosing something you don't mind breaking apart, for example an old phone), and carefully deconstruct the device so you can find out what electronic components are inside. Most semiconductor chips are labeled with the company name and component name. Then conduct online research to discover what the component does and what its role might be within the entire system of the electronic device to submit your final report. Here are a few ideas to get you started:
Smart phone, tablet or mobile device
Camera, voice recorder, video camera, tv remote
Headphones, speakers, music player
Watch, Pedometer, GPS navigator, Garage door opener
Computer components like mouse, monitor, keyboard
SAFETY TIPS: Before starting this challenge, make sure to have your chosen device approved by your team coach/leader/mentor/parent for safety purposes. Also note that some devices contain capacitors that hold a charge, and extreme caution should be used if the device has a capacitor. Any electrical device that contains a power source must be disconnected or removed before disassembly (unplug all cords and remove all batteries). You must wear safety glasses during the disassembly process.
Entries
---
The divice I selcted to take apart was a Samsung CU450. I chosse this divice because my parent said I could use it for VEX.
Read more
---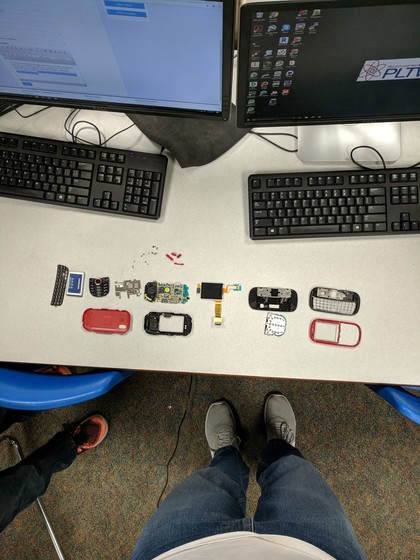 The device we selected to take apart was a Samsung CU450. We chose this device because one of our parents said we could use it for VEX. The Components we found inside the phone are the battery, motherboard, keyboard, speaker, camera, the port or charger, sim card expander, micro-SD card expander, and the connector to attach the key board. There were no TI components in this phone.
Read more
---
---
Me and my partner had decided to use a dvd/cd player as our subject to take for this project.It was laying around my house so I thought we can use it for our reasearch. During our project we found many things and learned many things also .
This is our first time doing anything like this so I hope you like our project and experiment.
Read more
---
Texas Instruments competition for Vex EDR challenge
I choose to disassemble a Television remote because let be honest who uses the tv nowadays because all of the information is now n Instagram and Facebook as well as twitter.
The first component I see on the controller is a led that produces infrared light. It is however to the human eye but you know what it isn't invisible to is a camcorder and the TV It corresponds to. The infrared is kind of like to...

Read more
---
---
Gateway is an electronics manufacturer. I had recently come across one of their old computer keyboard models, and decided to disassemble it and examine its components. I documented my findings here.
Read more
---
We are team 4104A from North Hardin High School, presenting a detailed documentation of the disassembly of a Boytone BT-17DJM-C record player.
Our reasoning for choosing a record player to use as the device we would disassemble is because we knew that there would not only be many unique functions of it that we could explain (one example being how it produces sound whenever a needle runs over a record) , but also that we could use the disassembly process as a major learning experience, hopefully furthering our knowledge in digital electronics...

Read more
---
---
VEX Robotics Electronic Online Challenge Sponsored by Texas Instruments for Gibson MS Robotics.
Team 11462A: We disassembled a Dell Dimension 3000 Windows XP Desktop Computer.
Read more
---