VRC Annotated Programming Skills Challenge Sponsored by The REC Foundation
VRC Annotated Programming Skills Challenge Sponsored by The REC Foundation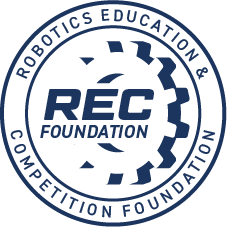 Robots have long had a role in industrial and commercial applications. A key feature of their use is the ability to be programmed to follow exact instructions, with the latest robots about to react with their environment – adjusting to correct for errors and make decisions.
The Programming Skills Challenge is the ideal format to showcase what your robot can do given a full minute of autonomous control.
This challenge is about explaining and demonstrating your team's autonomous program for the 2020-21 VEX Robotics Competition Change Up game.
6 key things to keep in mind for a successful submission:
Your video should show not only what your robot does, but include an explanation of how your code is working to perform those actions
The effective use of sensors should be explained as well as any functions within your code
Creative and innovative uses of programming or sensors is encouraged
The last minute of your video should show your complete, uncut programming skills program.
The program you used in the Programming Skills run shown in your video needs to be uploaded, with all comments or notes included
The point score earned during your Programming Skills run is not a factor in your submission- a high quality entry may not necessarily have a high score, but effectively explains and documents how the robot's design and sensors are utilized for an autonomous program that is effective.
Grade Level Requirements
| | | | | |
| --- | --- | --- | --- | --- |
| Elementary School | Middle School | High School | College / University | No Grade Level Restrictions |
Prizes
The REC Foundation will award four (4) overall prizes:
1 VRC Middle School will win an Invitation to VEX Worlds 2021 in Dallas, TX
3 VRC High Schools will win invitations to VEX Worlds 2021 in Dallas, TX
Eligibility
Entrant grade range: Middle School, High School
VEX Robotics Competition team requirement: Must be part of a registered VRC team for the current season.
Only one entry per team is permitted. However, each team in a multi-team school or club program may submit one entry. For example, teams 123A and 123B could each submit an entry, but team 123A could not submit two entries.
Requirements
These are the minimum requirements for this challenge. The "Judging Information" section below will provide additional guidance on how your project will be judged. Failure to fulfill any of these requirements will result in your entry being disqualified from advancing to Finalist.
Create and post a video featuring your team explaining the design, program, and then performing the Programming Skills Challenge for the 2020-21 VEX Robotics Competition Change Up game, up to 300 seconds (5 minutes) long.
There must be a credits section including the name of the entrant, the VRC team number, and the name of the video. The credits can be no longer than 15 seconds (Total allowed video length is 300 seconds with credits included).
Youth team members need to create and produce the video. It is acceptable for adults to help with the technical aspects of creating and submitting the video, and adults are encouraged to assist in completing any task that would be difficult or inappropriate for youth in this age group.
Teams must also submit the code used in the video
Post the video link directly to this online challenge site during the submission process. Links to Google Drive or Dropbox are not permitted and will result in disqualification.
Your video must be posted to YouTube, SchoolTube, Youku, or an equivalent platform.
Please note: you must use music in the public domain or else the platform may delete your video.
There are no specific requirements regarding the field perimiter, however you may click here to see a low cost field option.
NOTE: the team's code will only be used internally and will not be publicly posted
READ CAREFULLY: HOW TO SUBMIT YOUR VIDEO LINK CORRECTLY
Instructions to add video link to your entry:

Click the green Enter Challenge button on the right side of the screen.
Fill out the submission form and type your text in the Full Description box according to the Requirements for this challenge.
Click Save.
Click the blue Links/Videos button in the upper right of the screen.
Type in the URL, Title and Description. Include all required information, or your link may not display correctly.
Click Add Link.
Your submission is now listed when you click the blue All Entries button to view the challenge entries.
Judging Information
Judges will select ten finalists and those finalists will be reviewed by an additional panel of pre-selected professionals, and those scores will be combined with the initial scores to determine the winners of this Online Challenge.
The judges will evaluate and score each entry as follows:
· Up to 5 points for student team member(s) creating and producing the video*
· Up to 20 points for a clear program that is annotated with comments useful to an outside viewer
· Up to 5 points for using variables instead of coding hard numbers
· Up to 5 points for using advanced programming structures such as conditional logic
· Up to 10 points for formatting code in an organized manner
· Up to 30 points for a clear video explanation of your program (including video, narration, pictures, animation, and text) of each step of your autonomous program
· Up to 15 points for the effective use of sensors as a part of your autonomous strategy.
· Up to 10 points for an uncut presentation of your entire Programming Skills Program
*Students should be the sole creators of this submission. It is acceptable for adults to assist with downloading any necessary resources or submitting video where students may need permission.
Deadline Information
Current time:
Sat, Sep 23, 2023 5:11 AM CDT
Opens:
Fri, Jul 17, 2020 8:00 AM CDT
Closes:
Fri, Oct 30, 2020 5:00 PM CDT