The Robotics Education & Competition (REC) Foundation's mission is to increase student interest and involvement in science, technology, engineering, and mathematics (STEM) by engaging students in hands-on, affordable, and sustainable robotics engineering programs. We see a future where all students design and innovate as part of a team, experience failure, persevere, and embrace STEM. These lifelong learners emerge confident in their ability to make the world a better place.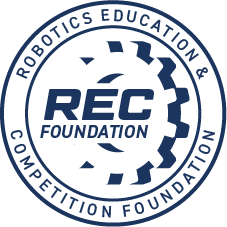 VEX IQ Challenge STEM Research Project Sponsored by The REC Foundation
VEX IQ Challenge STEM Research Project Sponsored by The REC Foundation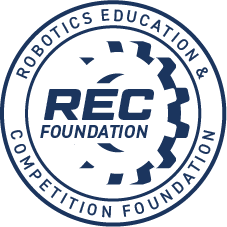 The focus for the VEX IQ Challenge is to have students learn about the relationship among the STEM fields of Science, Technology, Engineering and Mathematics. Each season one of the fields is featured, providing students with an opportunity to learn more about how it relates to robotics and how what they are learning in the classroom has a practical application in their lives.
This season the STEM research project will feature technology, with a specific focus on sensors. Technology is the branch of knowledge that focuses on practical purposes in life. It is the machinery and equipment that is developed using engineering. Sensors are electronic components that produce an output by detecting changes in its environment. It produces a signal notifying the user to the changes that have been detected. Gyro Ultrasonic Range Finder, Color Sensor, Touch LED, Bumper Switch are the sensors that are featured in the VEX IQ Challenge program.
Grade Level Requirements
| | | | | |
| --- | --- | --- | --- | --- |
| Elementary School | Middle School | High School | College / University | No Grade Level Restrictions |
Program Requirements
VEX IQ Robotics Competition
Prizes
Due to the number of total entrants for this challenge, the prizes have been revised below
The top 15 VIQC Elementary School STEM Research Online Challenge submissions will receive an automatic qualification to the 2021 VEX World Championship
The top 15 VIQC Middle School STEM Research Online Challenge submissions will receive an automatic qualification to the 2021 VEX World Championship.
Eligibility
Entrant grade range: Elementary, Middle School
VEX Robotics Competition team requirement: Must be part of a registered VIQC team for the current season.
Designs submitted in previous years' Online Challenges are not eligible for submission this year.
Only one entry per team is permitted. However, each team in a multi-team school or club program may submit one entry. For example, teams 123A and 123B could each submit an entry, but team 123A could not submit two entries.
Requirements
Requirements for Submitting Entries
Create a video of your STEM Research Project Presentation, not to exceed 4 minutes plus 15 seconds for credits. You may choose to explore any one of the suggested topics or one of your own related to this season's topic.
The video may be your team speaking, a voice over storyboard, a voice over PowerPoint or any other video format of your choosing.
The video should summarize your project from start to finish. The video should effectively share the story of your research project and the findings of your research.
Credits shall be provided at the end of the video and shall include the name of the entrant or entrants, the team number, the name of the video, music credits, plus any other information the entrant wants to include (software used, recognition of sponsors, etc.). The credits should be no longer than 15 seconds and must appear at the end of the video.
All material must be original or in the public domain (for example, music must be in the public domain).
Students produce the video, edit the video, add subtitles or other effects, make the editing decisions, and produce the final video. Adults may help with software or camera operation, but only enough to empower the students to do the work themselves.
Post or upload the video to YouTube, SchoolTube, Youku, or an equivalent free video posting service. Please refer to video posting instructions available directly from the service your team chooses. Whatever service is used, the link provided to the Event Partner must open right to the video and not require a password, login or present any other impediment. Save the link to the posted or uploaded video as you will need this for the submission according to the instructions on the event web site provided by the Event Partner.
Links to Google Drive or Dropbox or any other "cloud drive" are not permitted and do not meet the requirements.
Note: Music must be in the public domain or the video upload platform may delete the video. Use music only if necessary.
Follow these steps to develop your STEM research project.
Identify your topic of interest
Search for accurate information about your topic
Develop a thesis, which is a sentence that tells the reader what you believe about your topic
Organize all the information that you have found about your topic
Make an outline
Work on your project by filling in your outline with information that you learned in your research.
List all books, Internet sources, magazines, encyclopedias and anything else that you used to gather information.
Other helpful steps:
Involve all of your team members in some way.
Talk to technology experts in your community to find out how they use sensors in their line of work.
Identify one challenge topic that your team can focus on that use sensors.
Narrow your focus so that your team can effectively share your results.
Research your challenge topic using a variety of reliable sources, such as engineering and scientific journals and publications, electronic resources from various professional organizations, ask your librarian for help, including human experts in the area you are researching.
Create a prototype of a new device that can use a sensor or sensors to solve an issue. Snap cad, VEX IQ parts or hand drawn labeled sketches will be the method your team will use to share what you have learned about sensors.
If your solution does not work well, consider modifying your solution and testing it again.
Students do the research, choose the challenge and solution, make the decisions, and select the format to share their research results. Adults may offer guidance.
Presentation Production
Create a video of no longer than 4 minutes or submit a voice over PowerPoint type presentation or a storyboard with voice over.
The voice over portion should be the students explaining their how their prototype works and how the sensors solve an issue.
Here is a list of Potential Topics for your Project:
How can sensors be used to solve a problem?
What is an issue that needs a new piece of technology to solve?
How can sensors be used to develop new smart technology?
How can sensors be used to improve safety?
How will sensors allow for the innovation of current technology int smaller and more efficient devices?
What will we be able to do in the future with the use of sensors that we can not to at the present?
Judging Information
Evaluation Criteria
Your video must focus on this season's STEM topic, demonstrate to the judges how your project is significant, and how your research is relevant to this season's STEM topic.
Judges will evaluate each entry using the STEM Research Project Rubric. These factors will be considered during evaluation:
Demonstration of how this season's STEM topic played a role in their project and presentation.
The students have demonstrated how many different components of the STEM topic played a role in their project or how the subject of their research affected the topic as we know it today.
The video is of good quality, including resolution, editing and sound (all music must be in the public domain and credited properly).
The video is easily understood, clearly presented, creative and is enjoyable to watch – it engages the learner.
Demonstration that the video was produced by the students with minimal adult assistance.
Helpful Tip: Focus on making learning fun and engaging. Be creative with your presentation!
You video may be presented in any of the following forms:
A brief documentary.
Teaching a virtual classroom or stage a real classroom.
Film your presentation to your community.
Any method that appeals to an audience of your peers.
Deadline Information
Current time:
Wed, Oct 4, 2023 10:23 AM CDT
Opens:
Tue, Sep 1, 2020 9:00 AM CDT
Closes:
Thu, Dec 10, 2020 12:00 PM CST
Voting Ends:
Tue, Dec 15, 2020 12:00 PM CST