The Robotics Education & Competition (REC) Foundation's mission is to increase student interest and involvement in science, technology, engineering, and mathematics (STEM) by engaging students in hands-on, affordable, and sustainable robotics engineering programs. We see a future where all students design and innovate as part of a team, experience failure, persevere, and embrace STEM. These lifelong learners emerge confident in their ability to make the world a better place.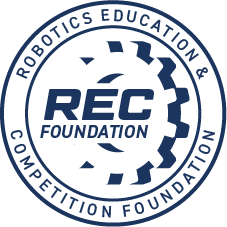 VEX U Educate Online Challenge Sponsored by Robotics Education & Competition Foundation
VEX U Educate Online Challenge Sponsored by Robotics Education & Competition Foundation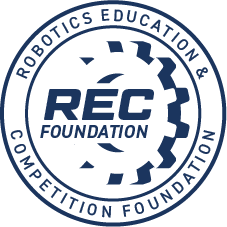 VEX U teams have a unique opportunity to fabricate their own components for their robots using raw materials such as non-shattering plastic, rubbers, composite materials, steel, aluminum, brass and bronze, along with plastic 3D printed parts. With this opportunity, and the leadership potential they have to advance the interest and involvement of STEM to high school students, we invite the VEX U teams to educate VRC teams on how to work through the design process of fabricating a unique part for a VEX U or VEX AI Competition (VAIC) robot.
Submissions for this challenge will be written from the perspective of teaching the design process involved in selecting a component on the robot for custom fabrication. There should be a compelling reason on why that custom part is needed, why the raw material was selected, what equipment is used and how that raw material is fabricated into a new component that improves the robot beyond what a commercially available product could do.
*Your entry may be shared by the REC Foundation to help promote VEX U and the VAIC programs in the mission of increasing students' interest and involvement in STEM.
Grade Level Requirements
| | | | | |
| --- | --- | --- | --- | --- |
| Elementary School | Middle School | High School | College / University | No Grade Level Restrictions |
Program Requirements
| | |
| --- | --- |
| VEX U | VEX AI Competition - University |
Prizes
1st: Qualification to VEX Worlds 2021
Eligibility
Entrant grade range: University
Team Requirement: Must be a student on a registered VEX U team for the 2020-2021 season.
Only one entry per team is permitted. However, each team in a multi-team school or club program may submit one entry. For example, teams 123A and 123B could each submit an entry, but team 123A could not submit two entries.
Requirements
These are the minimum requirements for this challenge. The "Judging Information" section below will provide additional guidance on how your project will be judged. Failure to fulfill any of these requirements will result in your entry being disqualified from advancing to Finalist.
Entries must be between 1000-2000 words long. Entries over or under this word count requirement will be disqualified.
Your final submission must be in PDF format (maximum file size: 20MB). Entry not in PDF format will be disqualified. You must upload your entry to the Online Challenges site during the submission process. Links to Google Drive, Dropbox, Sharepoint or any other site are not permitted and will result in disqualification.
Submission must include:
Name of the entrant or entrants
Registered team number
Title of submission
At least one image of fabrication process
At least one image of final fabricated component
Work submitted in previous or different Online Challenges may not be repurposed for this submission.
READ CAREFULLY: UPLOAD INSTRUCTIONS
Instructions to upload your PDF:
Click the green Enter Challenge button on the right side of the screen.
Fill out the submission form and type your text in the Full Description box according to the Requirements for this challenge.
Click Save.
Click the blue Files/Images button in the upper right of the screen.
Drag/Drop your PDF file into the Upload a File box.
Be sure to edit the Display Name and file information according to the Requirements for this challenge.
Save your edits and click Update on the entry screen.
Your submission will now show when you click the blue All Entries button to view the challenge entries.
Judging Information
The judges will evaluate and score each entry as follows:
Up to 5 points for a need statement. Why is a unique, custom fabricated component needed on the robot?
Up to 30 points for describing and explaining the design process.
Identify the design criteria and constraints for the custom part
Describe which ideas were explored early in the design process including failed and successful prototypes (physical and/or CAD). Explain why the solution was selected.
Explain the process used for the fabrication of the component and any applied manufacturing techniques.
Describe how the part was tested and evaluated based on the design criteria and constraints, including any trade-offs. Include descriptions of the iterations that were used to get to the final design.
Include a fully dimensioned engineering drawing that includes the necessary views to recreate the custom part (dimensions, tolerances, material)
Demonstrate how the final design met the design criteria and constraints and include any recommendations for future iterations.
Up to 20 points for clear pictures and/or diagrams so that this submission could be used by another team to reproduce the described custom component.
Up to 10 points for performance of the component, i.e. did the component improve the robot's function and was this explained satisfactorily?
Up to 10 points for the quality of writing with proper grammar and sentence structure.
Community-voting results will play a role in a tie-breaker scenario.
Deadline Information
Current time:
Sun, Dec 10, 2023 7:17 AM CST
Opens:
Mon, Oct 12, 2020 9:00 AM CDT
Closes:
Thu, Dec 31, 2020 12:00 PM CST
Voting Ends:
Fri, Jan 8, 2021 12:00 PM CST