The Robotics Education & Competition (REC) Foundation's mission is to increase student interest and involvement in science, technology, engineering, and mathematics (STEM) by engaging students in hands-on, affordable, and sustainable robotics engineering programs. We see a future where all students design and innovate as part of a team, experience failure, persevere, and embrace STEM. These lifelong learners emerge confident in their ability to make the world a better place.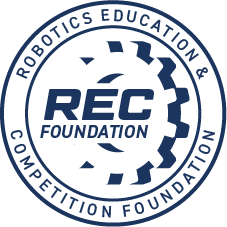 Game Animation Sponsored by the REC Foundation
Game Animation Sponsored by the REC Foundation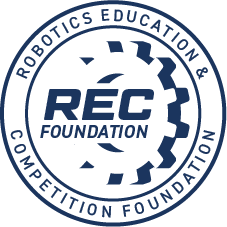 ________________________________________________________________________________________
Our Judges have begun to review all entries. We plan to have finalists posted by Tuesday June 22nd and Winners announced by Tuesday June 29th. Good luck teams.
_________________________________________________________________________________________
Game Animation sponsored by the RECF Foundation
Create an animated video or simulation that shows and explains a VEX IQ, VRC or VEX U Challenge game. This is your chance to get creative, invent a game, and demonstrate the game being played in a virtual environment. Construct a "real" game that is affordable, easily constructed by volunteers, obeys the laws of physics, has understandable rules, and is interesting for participants to play and audiences to watch.
VEX IQ teams should create a VEX IQ game
VRC teams should create a VRC game
VEX U teams should create a VEX U game
Grade Level Requirements
| | | | | |
| --- | --- | --- | --- | --- |
| Elementary School | Middle School | High School | College / University | No Grade Level Restrictions |
Program Requirements
| | | |
| --- | --- | --- |
| VEX IQ Robotics Competition | VEX Robotics Competition | VEX U |
Prizes
1st place - $500 VEX Robotics Gift Certificate
2nd place - $250 VEX Robotics Gift Certificate
3rd place - $100 VEX Robotics Gift Certificate
The top 3 teams from each of the following divisions will be awarded the above prizes:
VEX IQ Elementary School,
VEX IQ Middle School,
VRC Middle Shool
VRC High School
VEX U
Total Prize Value: $4250
Eligibility
Grade Level Requirement - Entries can be from any of the following grade levels:
Elementary School
Middle School
High School
College/University
Program Requirement - Entries can be from any of the following programs:
VEX IQ Challenge
VEX Robotics Competiton
VEX U
Note: Only one entry per team is permitted. However, each team in a multi-team school or club program may submit one entry. For example, teams 123A and 123B could each submit an entry, but team 123A could not submit two entries.
Requirements
These are the minimum requirements for this challenge. The "Judging Information" section below will provide additional guidance on how your project will be judged.
Challenge Requirements:
VEX IQ teams must create a VEX IQ Game
VRC teams must create a VRC Game
VEX U teams must create a VEX U Game
Create a Video (up to 3 minutes long) showing the game, rules, gameplay and scoring
Game must include a minimum of two scoring objects

One must be from a past game
One must be a new object of your own creation and may not have appeared in any past games
New object must be significantly involved in the scoring of the game

Any animation method may be used, including computer-generated images (CGI), Claymation, stop motion, paper or hand-crafted art
No live action - this is an animation contest
The video should well-produced and exhibit good editing, animation techniques, and use of music and narration
Robots featured in the animations should follow the laws of physics, and should be functional in the real world
The game should be playable, interesting, and incorporate the challenge object(s) in a creative, interesting way
Entries Must:
Include a Video

Videos can be up to three minutes (180 seconds long)
Videos must be posted to YouTube, SchoolTube, Youku, or an equivalent platform
At the end of the video, there must be a credits section which includes the name of the entrant or entrants, team number, proper music credit if used, and any other information you want to include (software used, recognition of sponsors, etc.). The credits should be no longer than 15 seconds (Total allowed video length is 3 minutes 15 seconds with credits included). Credits must appear at the end, not the beginning of the video
Please note: you must use music in the public domain, or YouTube may delete your video. Include proper music credit.

Upload video during the submission process (detailed instructions below) Links to Google Drive, Dropbox, Sharepoint or any other site are not permitted.
Be original - Work submitted in previous or different Online Challenges may not be repurposed for this submission
Be appropriate - The theme and descriptions must be appropriate for all ages
Be completed by students. Students should be the sole creators of this submission. It is acceptable for adults to assist with downloading any necessary resources or submitting the story where students may need permission
Instructions to add video link to your entry:
Click the green Enter Challenge button on the right side of the screen
Fill out the submission form and type your text in the Full Description box according to the Requirements for this challenge
Click Save
Click the blue Links/Videos button in the upper right of the screen
Type in the YouTube link URL, Title and Description. Include all required information, or your link may not display correctly
Click Add Link
Your submission will now show when you click the blue All Entries button to view the challenge entries
Caution: Failure to fulfill any of these requirements will result in your entry from advancing to Finalist judging
Judging Information
The judges will evaluate and score each entry as follows:
Up to 20 points: Game can be a real game that would be affordable and easily contructed
Up to 20 points: Game is easy to understand and score
Up to 20 points: Game objects make sense within the context of the game
Up to 20 points: Final product is creative, enjoyable, well designed, and engaging.
Up to 10 points: Robots show interaction in the game, are realistic, and could function in the real world
Up to 10 points: Video is well produced with good editing, animation techinques and use of music and narration
All Online Challenges entries may be shared or distributed by the REC Foundation after judging is completed.
Deadline Information
Current time:
Sat, Dec 2, 2023 7:32 PM CST
Opens:
Mon, Feb 8, 2021 7:00 AM CST
Closes:
Wed, Jun 2, 2021 11:59 PM CDT