FUTURE Foundation Robot Construction Challenge
Entries
The FUTURE Foundation exists to advance robotics and technology through education.
Build a VEX robot to deliver trophies to award winners at robotics tournament awards presentations. Think of your robot as the helper that makes presenting trophies a fun and exciting part of the awards ceremonies. It is up to you to figure out how this would work, but it should be useful, creative and interesting.
The producers of the VEX Robotics World Championship may buy the winning robot in the FUTURE Foundation Robot Construction Challenge, for the cost of materials, and the robot may be used to present trophies at the 2014 World Championship!
Finalists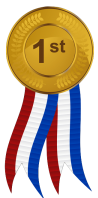 Patriot Robotics presents our 2014 online challenge.
Read more
---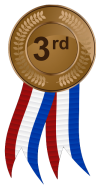 The Super-Size It Trophy Robot delivers both Vex and non-Vex trophies in a creative, unusual way. The robot, which start out looking like a shipping crate, expands into a giant sized VEX trophy with flashing LED VEX logo display. Up to 3 trophies can be delivered at a time, and Think Award, Tournament Champion, and Worlds sized trophies are all compatible. While at competitions, the platform of the Super-Size It! Trophy Robot serves as a convenient display stand for competition robots, or anything else one may wish to show off.
Read more
---
In a world where trophies need to be presented, only Mystique can deliver both a trophy and unfurl a championship banner at the same time. Holonomic drive makes maneuvering to excited winners with ease. The scissor is strong enough to lift many pounds of Sack Attack sacks allowing the largest Vex World Championship trophies to be lifted with ease.
Read more
---
Prime Robitcs introduces Troph-E our entry into the FUTURE Foundation Robot Construction Challenge
Read more
---
Central Hardin High School's Vex Robotics Team 6135 presents the FUTURE Foundation Robot Construction 2014 Challenge – "Trophy Robot". The ideas, design, construction, and functions were a combined effort of all the 6135 Teams. The Trophy Robot has been designed and built to assist in delivery of trophies at the VEX Robotics World Championships and any trophy presentation awards ceremony. The Robot accommodates one trophy at a time to add spectacle in the delivery driving in and departing. A holonomic drive system and 26" wheel base allow the robot to be very mobile, light weight, and...
Read more
---
Our goal was to make the Trophy or Award presentation moment special for the winner. Our Party Trophy Bot does just that - it makes the experience seem like a party specially made for them. As shown the Party Trophy Bot is effective in the awarding of a variety of trophies at school events in addition to VEX Tournaments. We can't wait to throw our next party presentation! Be sure to vote for team 2263C............
Read more
---
254B's entry, Trophocles, carries trophies on its mechanum drive to the recipients with efficiency and fun, utilizing the VEX speakers to celebrate the victory.
Read more
---
We designed our trophy presentation bot and used it in our annual tournament we just had this past Sat Jan 11, 2014 at Youthville Detroit
Read more
---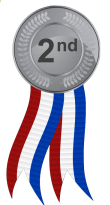 Gael Force Robotics proudly presents DADDOR, the Dynamic Award Display and Delivery Octagon Robot.
Read more
---
---