Make It Real CAD Engineering Challenge, Sponsored by Autodesk ®
Entries
Have you ever wanted a particular component for your robot that was not included in the kit of parts? Do you want to design and make something unique that sets you apart from your peers? Then the "Make It Real CAD Engineering Challenge" is for you! Autodesk is sponsoring this challenge and giving you a chance to focus your passion for CAD and apply your skills to solve a real world design issue.
In this challenge, you will use the same Autodesk 3D design software used by professionals to conceptualize and model a new part for a robot that improves its functionality or overcomes an existing problem. The new part must be designed to fit an existing robot, and may consist of multiple pieces that form one part design. The robot may be a competition robot (VEX, FIRST, BEST, PLTW, SkillsUSA, TSA, etc.) or another robot that performs an interesting task. To make it even more exciting, you will also have the option to compete for a "bonus prize" by 3D printing your custom part! Note that your 3D printed part from this online challenge may be used in the VEX U competition, but not in VRC.
As a result of this challenge, you may just uncover the path to your destined career! You can sharpen or learn new skills, show off your talent, and build a portfolio that will give you an edge over peers when applying to universities or jobs. This is especially important as employers today are looking to hire new graduates with demonstrated experience and skills.
To help you succeed, access to Autodesk software is available at no charge to students. In the Make It Real CAD Engineering Challenge, you must use either Autodesk® Fusion 360™ Ultimate or Autodesk® Inventor® Professional to model your custom robot part. Whether you've used the software before or are brand new to CAD, the Autodesk Design Academy provides lessons and video tutorials for all skill levels. You can learn more about parametric, direct, and free form modeling on the Autodesk Design Academy web page created just for this challenge.
To get started, carefully read the complete challenge requirements on this page. Then visit the Autodesk Design Academy challenge page to download software, watch tutorials and learn how to create custom parts. When you're ready, return to this page to submit your entry.
The future is yours to design, and we can't wait to see how you change the world!
Finalists
Introduction
A linear actuator provides movement in a straight line. This mechanism offers unlimited possibilities in robotics engineering.
Unfortunately, linear actuators cannot be built to their full potential with the current VEX Robotics inventory. Rack and pinion linear actuators cannot move heavy loads. The teeth of the rack gears often break under high pressure. Pneumatic pistons have a very small range of movement. And CAMs that provide linear motion are often unnecessarily complex for their intended job. VEX Robotics does offer a leadscrew...

Read more
---
Introduction
Unfortunately, it is not uncommon for the teeth of VEX spur gears to break under high loads. Even the high strength gears have been known to crack under pressure.
With our new gear set, teams will be able to build gearboxes that can handle heavier loads than ever before. Our new gear set contains helical gears. Helical gears have slanted teeth.
This key feature gives helical gears many advantages over spur gears:
helical gears have higher torque capacity than spur gears

helical gears...

Read more
---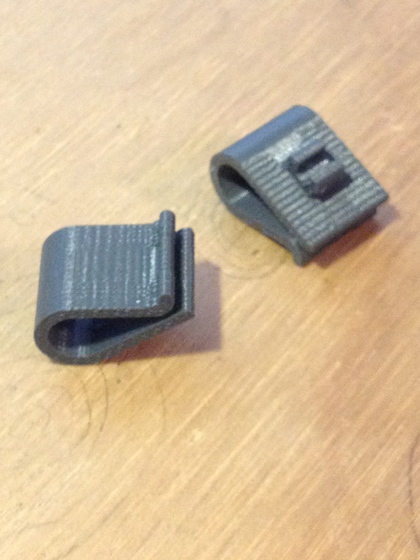 3018V VEXcalibur's CAD Challenge 2016 - The Wire Clip
Have you ever had trouble wiring your robot? Well fear not, because with the Wire Clip, it will make your life much easier.
We decided to try this challenge and immediately started brainstorming ideas. We wanted a product that was simple to make, but was very...

Read more
---
NYIT has been competing in the VEX U college division for the last 5 years with our accomplishments being largely aided by advancements in technology. Amongst these major developments include improvements in computer-aided design technologies. Using Autodesk Inventor, our team has designed many parts for the VEX competitions. NYIT's career being a part of VEX has been a great experience for all of our students as well as our school.
This past year we attended the 2014-2015 VEX World Competition held in Louisville, Kentucky. We finished 16th in the...

Read more
---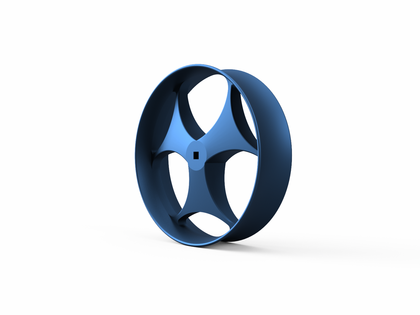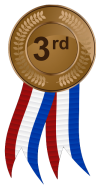 3D PRINTED FLYWHEEL
When the 2015-2016 Nothing but Net game was revealed, the team instantly began working on countless prototypes. In our sessions during the summer, we built many different shooters such as catapults, double flywheels, and single flywheels. Then we thought, how could we improve our prototypes? How can we create a flywheel that provides us a higher...

Read more
---
Make It Real CAD Engineering Challenge
Freezing Code 9282
Final Report
When testing different gear/sprocket ratios or replacing gears/sprockets, the mechanisms location inside a complex robot has the possibility of causing an extremely time consuming swap. Even if the mechanism is not deep inside of the robot, you must take everything else off of the axle that would prevent the sought after part from sliding off. We designed this gear to solve these...

Read more
---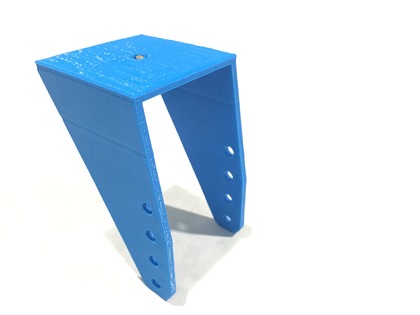 Team 4442X of Navigator Robotics, from Island Pacific Academy, developed a swivel wheel bracket with the ability to house a two-inch wheel or a four-inch wheel – omnidirectional and rubber – with holes at four different heights for axle insertion. The team used Autodesk Inventor Professional (CAD software) to draw the part, and subsequently printed the product using the MakerBot Replicator 5th Generation, to test the part on a simple base. The part was designed to lower the turning radius of a robot and increase maneuverability while still maintaining motor...

Read more
---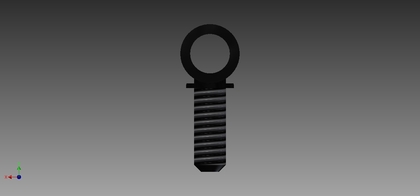 This is the Screw Bearing. It simplifies many complicated trusses which are normally made using many other parts.
Engineering Notebook Work to decide on part to choose: Here
The Problem: Long axles have no way to be supported easily and without clutter, and angled trusses are difficult to make without destroying parts needed elsewhere on the robot.
The screw bearing was...

Read more
---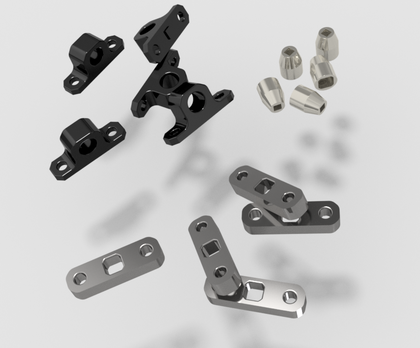 We believe our team has designed and manufactured something extremely useful that sets us apart from anyone in the VEX community for this first "Make It Real CAD Engineering Challenge."
We have designed a range of components that can be used for the VEX High Strength Shaft to improve its performance and functionality on a VEX competition robot.
VEX High Strength Shaft Adapter

Read more
---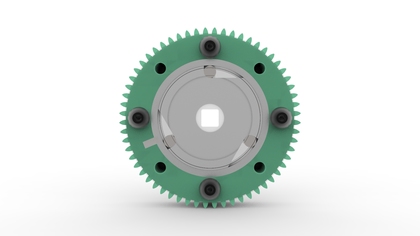 Introduction
We have created The Trapped Roller Clutch for use in VEX Robotics. Currently in VEX, there is a product called the Winch and Pulley Kit. The Winch and Pulley kit is bundled with a ratchet. The main problem with the ratchet is that it was never designed for applications it is now being used for. There is too much friction when used in high RPM conditions and high torque applications and it is also very...

Read more
---
This part allows teams to build ENTIRE robots that are lighter, more precise, and remain
just as rigid as before; all without cutting.
Please see attached PDF file of report and appendicies.
Read more
---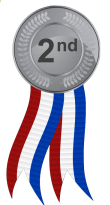 Due to the inefficiencies of the orginal VEX clutch, we have designed a new part to accomodate the need to engage and disengage motors. This will allow us to build gear boxes, trigger mechanisms, and other systems where flexibility is required.
Read more
---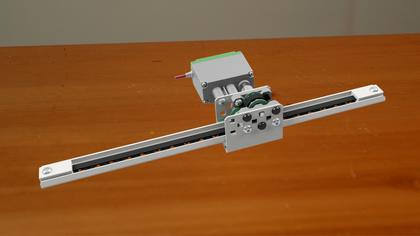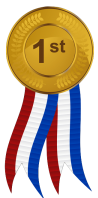 The VEX Belt Drive Kit
Created by the Automata Lemon Bot Alliance (ALBA)
Introduction
The VEX Belt Drive Kit was designed as a compact way to provide precise linear motion with minimal backlash. It allows a linear slide kit or linear motion kit to be driven using a standard XL belt. The belt can fit inside the linear slide when a low-profile solution is needed. The kit is designed to work with standard and steel-core XL belt up to 9mm wide, allowing users to select the...

Read more
---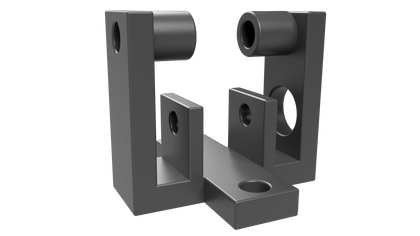 We created this part because of issues in friction from standard VEX sliders, the standard sliders work good for applications where there is low sideways force where the slides do not rub against the trucks. With sideways force however the trucks act more like a brake and completely stops the sliders from moving up and down, this slider was designed to handle that sideways force well while being as compact as possible. This would be a game changer as there aren't many good solutions to this problem and most teams simply avoid forklift style lifts all together because of issues with...

Read more
---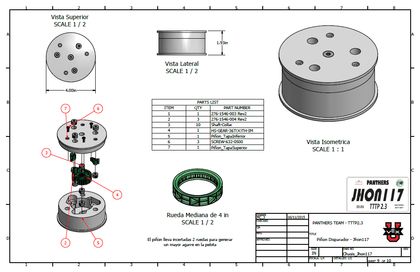 In the new challenge, "Nothing But Net" was necessary to develop a trigger that losing engine rotation inertia release mechanism to release. As the development of supports for mechanical transmission.
Read more
---