The Robotics Education & Competition (REC) Foundation's mission is to increase student interest and involvement in science, technology, engineering, and mathematics (STEM) by engaging students in hands-on, affordable, and sustainable robotics engineering programs. We see a future where all students design and innovate as part of a team, experience failure, persevere, and embrace STEM. These lifelong learners emerge confident in their ability to make the world a better place.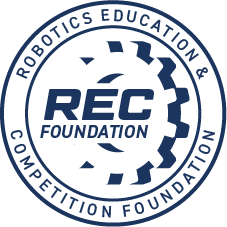 VEX IQ Challenge Promote Award
VEX IQ Challenge Promote Award
This is your big chance to tell us how great your team is! Be creative and have fun making a video which shows one or more of these parts of building VEX IQ Challenge robots:
Why other youth would love building robots and should start a team or join your team
What your team does
How you design and build your robot
What you learn from the VEX IQ Challenge
You will see the rules for the challenge below, but the most important thing is to get people excited about what your team does!
Grade Level Requirements
| | | | | |
| --- | --- | --- | --- | --- |
| Elementary School | Middle School | High School | College / University | No Grade Level Restrictions |
Program Requirements
VEX IQ Robotics Competition
Prizes
1st: VEX IQ Challenge Promote Award, $750 vexrobotics.com gift certificate and automatic team qualification for the 2016 VEX IQ Challenge World Championship
2nd: $500 verobotics.com gift certificate
3rd: $250 vexrobotics.com gift certificate
Eligibility
Entrant grade range: Elementary school, middle school
VEX competition team requirement: The team submitting the entry must be registered in the 2015-2016 VEX IQ Challenge program.
Entries submitted in previous years' Online Challenges are not eligible for submission this year.
Requirements
Requirements
These are the minimum requirements for this challenge. The "Evaluation Criteria" below will provide additional guidance on how your project will be judged. Failure to fulfill any of these requirements may result in your entry being disqualified from advancing to Finalist or Winner status. (If you do not know how to post a video to YouTube, please read this instruction page.)
Create and post to YouTube an entertaining advertisement or short movie featuring your team and the VEX IQ Challenge, up to 90 seconds long.
At the end of the video, there should be a credits section including the name of the entrant, the VEX IQ Challenge team number, and the name of the video. The credits should be no longer than 15 seconds.
No team may submit more than one entry, but each team in a multi-team school or club program may enter this competition. For example, teams 123A and 123B could each submit a video, but team 123A could not submit two videos.
Youth team members need to create and produce the video. It is acceptable for adults to help with the technical aspects of creating and submitting a video to YouTube, and adults are encouraged to assist in completing any task that would be difficult or inappropriate for youth in this age group.
Videos submitted in previous Online Challenges are not eligible for submission this year.
Judging Information
Judges will select at least ten finalists from the submitted entries and will use community voting results in their choices of finalists. The finalist submissions will then be judged by additional selected professionals who will determine the winners of the VEX IQ Challenge Promote Award.
Evaluation Criteria and Additional Information
Different videos may focus on different aspects of the VEX IQ Challenge experience. The judges will evaluate each entry on one or all of the following. Your video may cover more than one of these, but needs to include at least one of these aspects:
This video shows the team process – working and/or having fun together in the lab or at events.
This video shows the impact the team has on their school and/or community, promoting STEM, their team, and the VEX IQ Challenge.
This video shows how the team designs and builds their robots.
The video celebrates the team's experience attending VEX IQ Challenge events.
The judges will also evaluate each entry on:
Good video editing
Effective use of music and sound
Clarity of the message
Creativity of approach
Deadline Information
Current time:
Wed, Oct 4, 2023 2:13 PM CDT
Opens:
Wed, Sep 16, 2015 11:00 AM CDT
Closes:
Wed, Jan 13, 2016 11:00 AM CST
Voting Ends:
Fri, Feb 5, 2016 10:59 AM CST