The Robotics Education & Competition (REC) Foundation's mission is to increase student interest and involvement in science, technology, engineering, and mathematics (STEM) by engaging students in hands-on, affordable, and sustainable robotics engineering programs. We see a future where all students design and innovate as part of a team, experience failure, persevere, and embrace STEM. These lifelong learners emerge confident in their ability to make the world a better place.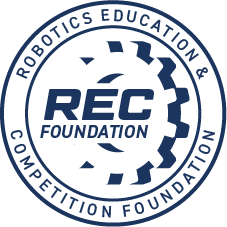 RECF STEM Educational Video
RECF STEM Educational Video
Create a video to teach a new team something about the creation and management of an effective team STEM process that can help them better prepare for competition. You should come up with your own idea, but here are some sample ideas from previous years' Educational Videos:
How to analyze an engineering game or challenge to create an optimal strategy
How to build an effective team
How to test a mechanisms
What kind of engineering process works best, and how to document it
Grade Level Requirements
| | | | | |
| --- | --- | --- | --- | --- |
| Elementary School | Middle School | High School | College / University | No Grade Level Restrictions |
Program Requirements
| | | |
| --- | --- | --- |
| VEX IQ Robotics Competition | VEX Robotics Competition | VEX U |
Prizes
1st: RECF STEM Educational Video Award, $750 vexrobotics.com gift certificate and automatic team qualification for the 2016 VRC World Championship if the entrant is part of a registered VRC or VEX U team
2nd: $500 verobotics.com gift certificate
3rd: $250 vexrobotics.com gift certificate
Eligibility
Entrant grade range: middle school, high school, university
VEX competition team requirement: Does not have to be a team entry
Requirements
These are the minimum requirements for this challenge. The "Evaluation" section below will provide additional guidance on how your project will be judged. Failure to fulfill any of these requirements may result in your entry being disqualified from advancing to Finalist or Winner status.
This challenge is about the best way to plan, organize, operate and/or manage your STEM work team, or how to most-effectively run your team at an event. Your video must focus on at least one aspect of these processes. You may want to build some kind of robot or robotics mechanism to support your video, but is not required.
Video up to three minutes long, submitted to YouTube, plus an additional credits section at the end, up to 15 seconds long.
At the end of the video, there must be a credits section up to 15 seconds long which includes the name of the entrant or entrants, the VRC or VEX U team number of the team (if any), and the name of the video, plus any other information the creators want to include (software used, recognition of sponsors, etc.)
Videos submitted in previous Online Challenges are not eligible for submission this year.
Judging Information
Judges will select at least ten finalists from the submitted entries, and will take community voting results into account in making their choices. The finalist submissions will then be judged by additional selected professionals whose scores will be combined with the preliminary-round judges' scores to determine the winner of the RECF STEM Educational Video Challenge.
Evaluation Criteria and Additional Information
The judges will evaluate each entry on:
The entry provides real solutions to at least one of the planning, organization, training, operation, management issues, or event management issues facing STEM competition teams
The video effectively states its goals and achieves them
The video is easily understood, clearly presented, creative and is enjoyable to watch
Video is of high production quality, with good video, editing and sound
Your video should focus on the process you use to operate your team. The judges will expect each entry to cover at least one of these areas or a similar area not listed here:
How to document an engineering process
How to do scouting
How to deal with conflicts between team members
How to divide up work for maximum effectiveness
How to work with other teams at an event
How to effectively run your team at a tournament
How to prepare your team and robot for an event
How to train new team members
For each of these, you should mention why you use this approach.
Deadline Information
Current time:
Sat, Dec 2, 2023 3:01 PM CST
Opens:
Wed, Sep 16, 2015 11:00 AM CDT
Closes:
Wed, Jan 13, 2016 11:00 AM CST
Voting Ends:
Fri, Feb 5, 2016 10:59 AM CST