VEX Robotics Competition Promote Award
Entries
The Promote Award is presented to a VEX Robotics Competition (VRC) or VEX U team that has created and submitted an outstanding promotional video. The goal of this video is to help the team introduce itself in the community, to help recruit new students and mentors, and to gain support for the team. This video may be about the team, the program, the competition, the design and build process, the robot itself, or any theme the team believes can help promote its VEX Robotics program in their community.
Finalists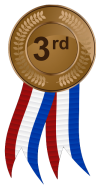 Our goal as a team is to inspire the next generation to get involved with the technological field. Using our team's experience we can encourage those who lack the necessary resources with STEM concepts. Hope you enjoy!
Read more
---
We want to communicate how VEX changed our life! we make friends and had the most passionate experience of our life. We learn, we have fun, VEX challenge us very day!!
Read more
---