FUTURE Foundation Robot Construction Challenge
Entries
Design a robot that can provide companionship, assist with simple tasks, and could be integrated into a home environment of the future. Use VEX parts in at least 50% of the design, including the use of a VEX control system. Design your futuristic robot to perform functions that are safe for the robot and anyone with whom it would interact.
Finalists
Powered Household Fixtures - For Disabled Individuals
Read more
---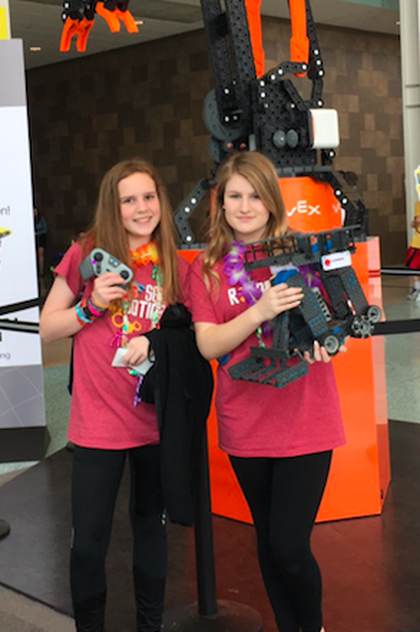 Our team, 99905A, created a robot that effiently cleans paintbrushes. We believe that art and robotics are directly related, so this robot made sense to us. The robot can be used in both a home and classroom enviromenent. Please read our included document and watch our video for more information.
Read more
---
We design this cool robot, which could run autonomously and manually. It could pick up a cup, get water from the water dsipenser, and hand over to a human. The manipulater is really really cool. We changed the design several times, and finally have this design. very stable, accurate.
We used a standard VEX CLAW, and we are not happy with it. too heavy, and could only grab small stuff.
In the future, we will improve the design of claw, and have a big change to the base, too.
Read more
---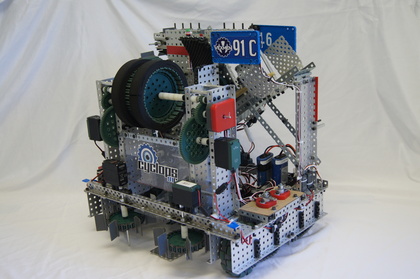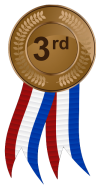 Pets have long been known to provide companionship to elderly and disabled persons. For those that are challenged with limited mobility, interacting with pets is difficult. We have highlighted a use of robotics to fulfill this need. Our robot will shoot a ball, so that a dog can fetch the ball. In the event that the dog does not fetch the ball, the robot can be remotely driven to collect the ball and return the ball to the user. Our robotic solution will provide more quality play-time with a pet, resulting in a more fulfilling experience for the elderly or...

Read more
---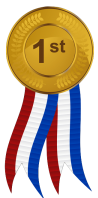 The Gomi-Betsu bot--or affectionately, "Betsie"--is the new assistive robot to enhance life at home!
The word 'Gomi' (ゴミ) and 'Betsu" (べつ) is Japanese for 'trash' and 'separate' which is exactly what our robot does. As we all know, recycling is better for the earth, but sometimes that can be a hassle. With this robot, the separating is done for you, which leaves you just to drop the recyclable into the chute. This eliminates the inconvenience that comes with recycling, and creates an eco-friendly environment at home.
Read more
---
Meet Caddy Buddy, our FUTURE Robot 2017 Starstruck Edition. For everyone who has ever built, programmed, managed, and designed robots, a big challenge we face is not having the parts we need at our fingertips. Caddy Buddy is our one-stop-shop solution for everything you need! Using all VEX parts, Caddy Buddy is the best robot assistant any robotics team could ask for, both easy to use and it's even travel size!
Please see attached document for full write up.
Read more
---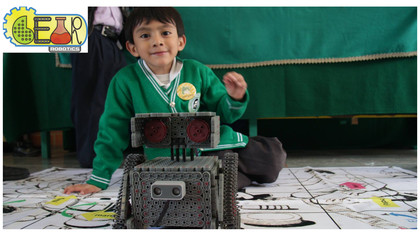 Learn Read+ Project
LEEO ROBOT
Abstract
A universal level, are considered three essential learning task for life: reading, writing and logical-mathematical thinking. These skills are important tools for developing increasingly elaborate levels of thinking, communication, and positive interaction with others and the environment, as well as being valuable tools for learning, continuing to learn, and continuing to learn.
In this sense, the tools of VEX Robotics and the Classrom STEAM concepts allowed to...

Read more
---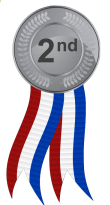 A short video covering the production of our very own J33V3S an automated robot constructed by our crew at Bryant Hornet Engineering

You can keep up to date with us at our website:
http://robotics.bryantschools.org

Make it Happen
Document has been submited but must be downloaded.
Read more
---
Team 8304H from Indian Hill, Ohio presents:
COMRADE
(COMpanion Robot Assistive DEvice)
By Calvin O'Brien, Joel Blachman, Kieran Walker, Ben Warstler, Jared Zins and Jordan Wentland
Read more
---
We, Ryerson Rams Robotics (R3), have created a futuristic robot that helps to clean floors. This robot is an awesome companion robot that can work along side you as you clean, or can be turned on as you leave, and have the house clean by the time you get home. Swiffy, the robot, uses multiple sensors including the gyrocope and ultrasonic sensors in order to autonomously mop floors without missing a spot.Our easy to use robot will reduce stress, increase happiness, and give companionship to anyone in need.
Read more
---