Make It Real CAD Engineering Challenge Sponsored by Autodesk ®
Entries
CONGRATULATIONS WINNERS FOR THIS SEASON'S CHALLENGE:
First Prize in overall challenge, and Top Winner in College/University category:
Second Prize in overall challenge, and Top Winner for High School category:
Third Prize in overall challenge, and Top Winner for Middle School category:
Fourth Prize in overall challenge, and Top Winner for Elementary School category:
Each of the above winners earns an invitation to VEX Worlds 2018 if part of a registered VIQC, VRC, or VEX U team.
Congratulations everyone!!! Your entries these season were absolutely amazing, and you should be very proud of your work. We hope to see ALL of you entering again next season, and wish you the very best of luck and skill!
Don't forget: All participants with eligible entries will be rewarded with a certificate for your portfolio and membership points in the Autodesk Education Expert Network, which allows you to showcase your work with industry professionals, among other benefits.
-----------------------
Have you ever wanted a particular component for your robot that was not included in the kit of parts? Do you want to design and make something unique that sets you apart from your peers? Then the "Make It Real CAD Engineering Challenge" is for you! Autodesk is sponsoring this challenge and giving you a chance to focus your passion for CAD and apply your skills to solve a real world design issue.
In this challenge, you will use the same Autodesk 3D design software used by professionals to conceptualize and model a new part for a robot that improves its functionality or overcomes an existing problem. The new part must be designed to fit an existing robot, and may consist of multiple pieces that form one part design. The robot may be a competition robot (VEX, FIRST, BEST, PLTW, SkillsUSA, TSA, etc.) or another robot that performs an interesting task. To make it even more exciting, you will also have the option to compete for a "bonus prize" by 3D printing your custom part! Note that your 3D printed part from this online challenge may be used in the VEX U competition, but not in VRC or VIQC.
To help you succeed, access to Autodesk software is available at no charge to students. In the Make It Real CAD Engineering Challenge, you must use either Autodesk® Fusion 360™, Autodesk® Inventor®, or Tinkercad™ to model your custom robot part. Whether you've used the software before or are brand new to CAD, the Autodesk Design Academy provides lessons and video tutorials for all skill levels.
To get started, carefully read the complete challenge requirements on this page. Then visit the Autodesk Design Academy challenge page to download software, watch tutorials and learn how to create custom parts. When you're ready, return to this page to submit your entry.
The future is yours to design, and we can't wait to see how you change the world!
Winners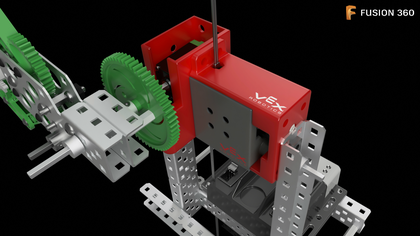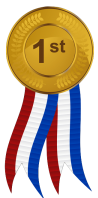 Hello

This project aims to present a new product for insertion in the VEX robotics platform. With the creation of the joint of components can lead the students to new possibilities of creations and joints of mechanical systems.
Within this presentation it is distributed as follows:
Content;
Idealization of the project from its initial phase;
The execution of prototypes for physical tests;
A finally applications in the area of robotics.
Thank you for enjoying this...

Read more
---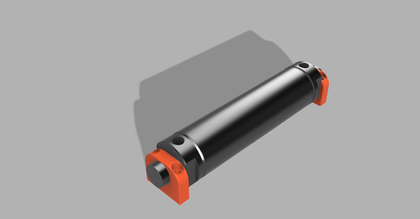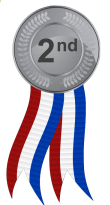 Pneumatic system mounting brackets for Vex Robotics
Software used: Fusion 360 Ultimate, Student (version 2.0.3800)
---
Why did we design this part:
When the 2017-2018 Vex Robotics game In The Zone was released we felt that pneumatics would be an important role in our robots design. We spent months developing different intakes for various game elements using pneumatics and we quickly realized that there isn't a great solution for attaching various pneumatic components to a robot;...

Read more
---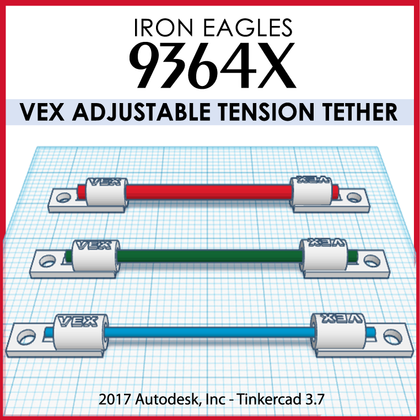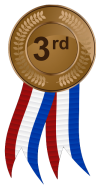 The VEX Adjustable Tension Tether is a multifunctional system designed to replace typical rubber bands by increasing durability, being more reliable during competition, and lasting longer than standard rubber bands in order to enhance the torque and speed robot mechanisms.
Read more
---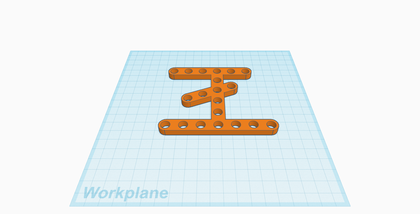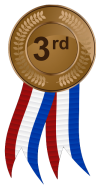 Hello my name is Jack Schopp and I am a 5th grader on the Roborunners team 1313A. I have been in VEX IQ for 3 years now. I have enjoyed designing, building, and testing my ideas through TinkerCad and SnapCad for the past 2 years. I have been the lead builder on my robotics team for the past 2 years as well. I have sometimes found it difficult to create a strong vertical support for my robot base. One that is strong enough to support the robot and any arm attachments to the robot. I have often thought it would be great if VEX IQ could make a piece that I...

Read more
---