REC Foundation STEM Educational Video Challenge
REC Foundation STEM Educational Video Challenge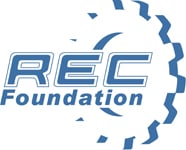 Who is your STEM Superstar? There are countless heroes and heroines in STEM who amaze and inspire us, innovators and creative thinkers who stand out from the crowd as brave leaders in their fields. For this year's educational video challenge, pick a pioneer in Science, Technology, Engineering, or Mathematics and teach us about her/him. This person can be current or historical, and must have (or is having) a significant impact on advancing STEM fields. Your STEM superstar may be an inventor, researcher, scientist, experimenter, tester of boundaries, writer, engineer, mathematician, or anything in between! And to keep learning interesting and engaging, we encourage you to dress in costume, present a living diorama, perform a skit, teach a virtual classroom, or any method that appeals to an audience of your peers.
Grade Level Requirements
| | | | | |
| --- | --- | --- | --- | --- |
| Elementary School | Middle School | High School | College / University | No Grade Level Restrictions |
Program Requirements
| | |
| --- | --- |
| VEX Robotics Competition | VEX U |
Prizes
1st: REC Foundation STEM Educational Video Challenge Award, $750 vexrobotics.com gift certificate and automatic team qualification for this season's VEX Robotics World Championship if the entrant is part of a registered VRC or VEX U team
2nd: $500 vexrobotics.com gift certificate
3rd: $250 vexrobotics.com gift certificate
Eligibility
Entrant grade range: Middle school, high school, university.
VEX competition team requirement: Does not have to be a team entry.
Videos submitted in previous Online Challenges are not eligible for submission this year.
Only one entry is permitted by the same team. Each team in a multi-team school or club program may submit an entry. For example, teams 123A and 123B could each submit a video, but team 123A could not submit two videos.
Requirements
These are the minimum requirements for this challenge. The "Judging Information" section below will provide additional guidance on how your project will be judged. Failure to fulfill any of these requirements may result in your entry being disqualified from advancing to Finalist or Winner status. If you do not know how to post a video to YouTube, please read this instruction page.
Create and post to YouTube a video focusing on teaching your peers about the significance of a STEM superstar of your choice, showcasing what they did/are doing and how they made/are making an impact on advancing STEM fields today. This person can be current or historical (living or dead).

Videos can be up to three minutes long.
At the end of the video, there must be a credits section which includes the name of the entrant or entrants, the team number, the name of the video, proper music credit, plus any other information the creators want to include (software used, recognition of sponsors, etc.). The credits should be no longer than 15 seconds and must appear at the end of the video (Total allowed video length is 3 minutes 15 seconds with credits included).

Focus on making learning fun and engaging – be creative with your presentation! You may elect to:

Dress in costume
Present a living diorama
Perform a skit or short film
Teach a virtual classroom or stage a real one
Use animation or special effects that enhance your teaching
Or any method that appeals to an audience of your peers

This video must be student produced! Adults can help with software or camera operation, but only enough to empower the students to do the required work themselves.
Post the YouTube video link directly to this online challenge site during the submission process.
Please note: you must use music in the public domain, or YouTube may delete your video.
Videos submitted in previous Online Challenges are not eligible for submission this year.
READ CAREFULLY: HOW TO SUBMIT YOUR VIDEO LINK CORRECTLY
Instructions to add YouTube video link to your entry:

Click the green Enter Challenge button on the right side of the screen.
Fill out the submission form, and type your text in the Full Description box according to the Requirements for this challenge.
Click Save.
Click the blue Links/Videos button in the upper right of the screen.
Type in the YouTube link URL, Title and Description. Include all required information, or your link may not display correctly.
Click Add Link.
Your submission will now show when you click the blue All Entries button to view the challenge entries.
Judging Information
Judges will select at least ten finalists from the submitted entries, and will take community voting results into account in making their choices. The finalist submissions will then be judged by additional selected professionals whose scores will be combined with the preliminary-round judges' scores to determine the winners of this Online Challenge.
Evaluation Criteria and Additional Information
Your video must focus on a current or historical pioneer in Science, Technology, Engineering, or Mathematics and teach the audience why this person is significant and how they have had an impact on advancing STEM fields.
The judges will evaluate each entry on:
The person featured in the video is a true pioneer in his/her respective STEM field.
This person was well researched in order to present their complete story.
The video presents interesting facts in a creative manner.
The video is easily understood, clearly presented, creative and is enjoyable to watch – it engages the learner.
The video is of high production quality, with good video, editing, and sound (all music must be in the public domain and/or credited properly).
Deadline Information
Current time:
Thu, Sep 21, 2023 8:23 PM CDT
Opens:
Wed, Sep 13, 2017 9:00 AM CDT
Closes:
Wed, Jan 10, 2018 1:00 PM CST
Voting Ends:
Fri, Jan 26, 2018 6:00 PM CST