The FUTURE Foundation exists to advance robotics and technology through education.
Recycling Online Challenge Sponsored by FUTURE Foundation
Recycling Online Challenge Sponsored by FUTURE Foundation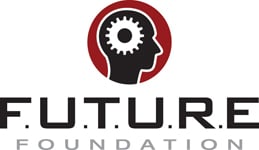 With ten years of VRC events and competitions, we know there are a great deal of old game elements out there. We would like to challenge teams to look in storage rooms, closets, and boxes to find previously used stars, Skyrise pieces, cubes, balls, etc. Take some time to think of a creative plan to give old VRC game objects a new purpose. Consider how you can make something to assist a teacher or students in a classroom, or perhaps something that can make simple tasks around the home or office a little easier. For example, we constructed a working floor lamp out of the Skyrise pieces while we were developing this challenge!
Grade Level Requirements
| | | | | |
| --- | --- | --- | --- | --- |
| Elementary School | Middle School | High School | College / University | No Grade Level Restrictions |
Program Requirements
| | |
| --- | --- |
| VEX Robotics Competition | VEX U |
Prizes
1st: Recycling Online Challenge Sponsored by FUTURE Foundation Award, $750 vexobotics.com gift certificate and automatic team qualification for this season's VEX Robotics World Championship
2nd: $500 vexrobotics.com gift certificate
3rd: $250 vexrobotics.com gift certificate
Eligibility
Entrant grade range: Middle school, high school, university.
VEX Robotics Competition team requirement: This contest is open to VRC and VEX U teams registered for the current season.
Designs submitted in previous Online Challenges are not eligible for submission this year.
Only one entry is permitted by the same team. Each team in a multi-team school or club program may submit an entry. For example, teams 123A and 123B could each submit an entry, but team 123A could not submit two entries.
Requirements
These are the minimum requirements for this challenge. The "Judging Information" section below will provide additional guidance on how your project will be judged. Failure to fulfill any of these requirements may result in your entry being disqualified from advancing to Finalist or Winner status. If you do not know how to post a video to YouTube, please read this instruction page.
Develop a plan utilizing old VRC game elements for a new purpose with a positive impact.
Create and post to YouTube a video about how the game elements are being reused, and show them in action.

Videos can be up to two minutes (120 seconds) long.
At the end of the video, there must be a credits section which includes the name of the entrant or entrants, team number, proper music credit if used, and any other information you want to include (software used, recognition of sponsors, etc.). The credits should be no longer than 15 seconds (Total allowed video length is 2 minutes 15 seconds with credits included). Credits must appear at the end, not the beginning of the video.
Post the YouTube video link directly to this online challenge site during the submission process.
Please note: you must use music in the public domain, or YouTube may delete your video. Include proper music credit.

Upload a brief report describing your design and thought process (maximum length: 500 words):

You may include text, sketches, calculations and/or photographs of the transformation, documenting your team working on the project.
The report must be submitted in either DOC, DOCX, or PDF format.

The recycled product should be made primarily of VEX EDR game components. The use of non-VEX components is allowed for decorations and embellishments, or for parts not provided by VEX.
The construction should be safe in use, and exclude chemicals, flames, or sharp/harmful objects.
Upload the report with all supporting imagery included, and post the YouTube video link directly to this online challenge site during the submission process (20MB maximum file size).
READ CAREFULLY: UPLOAD INSTRUCTIONS
Instructions to add YouTube video link to your entry:

Click the green Enter Challenge button on the right side of the screen.
Fill out the submission form, and type your text in the Full Description box according to the Requirements for this challenge.
Click Save.
Click the blue Links/Videos button in the upper right of the screen.
Type in the Link URL, Title and Description. Include all required information, or your link may not display correctly.
Click Add Link.

Instructions to upload your Report:

Either type your report in the Full Description box on the submission form, or upload a Word doc or PDF report:
Click the blue Files/Images button in the upper right of the screen.
Drag/Drop your Word doc or PDF report into the Upload a File box.
Be sure to edit the Display Name and file information according to the Requirements for this challenge.
Save your edits and click Update on the entry screen.

Your submission will now show when you click the blue All Entries button to view the challenge entries.
Judging Information
Judges will select at least ten finalists from the submitted entries, and will take community voting results into account in making their choices. The finalist submissions will then be judged by additional selected professionals whose scores will be combined with the preliminary-round judges' scores to determine the winner of this challenge.
Evaluation and Additional Information
The product is useful in a school, home or business setting.
The recycled product is well made and functional, and safe in use.
The product completes its task in a creative, fun, interesting way.
The video clearly shows the item being used, and how it performs its task.
The video is well made with good video, editing and use of sound and music (all music must be in the public domain).
The accompanying report is clear, thorough, describes how the product works, and is well written with excellent grammar usage.
Deadline Information
Current time:
Wed, Oct 4, 2023 6:11 AM CDT
Opens:
Wed, Sep 13, 2017 9:00 AM CDT
Closes:
Wed, Jan 10, 2018 1:00 PM CST
Voting Ends:
Fri, Jan 26, 2018 6:00 PM CST